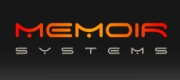 Memoir Systems Inc. Yerevan Branch
Mr. Hayk Adamyan, Director
Ekmalyan 1 - 21
Phone: +374 10 53 54 47
Email: hayk@memoir-systems.com
Memoir Systems, Inc. is a provider of breakthrough embedded memory technology that is delivered as Semiconductor Intellectual Property (SIP).
The company utilizes its patent-pending Algorithmic Memory™ technology to increase the performance of existing memory macros – up to 10X more Memory Operations Per Second (MOPS). In addition, the technology significantly shortens memory development time, and lowers area and power consumption.
Memoir's technology is process, node, and foundry independent, and can be readily integrated into any existing SoC (ASICs, ASSPs, GPPs and FPGAs) design flow.
The company's strategy is to deliver technology and business benefits to its customers and partners by providing solutions that are drop-in replacements for existing embedded memory.