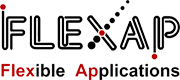 Flexible Applications CJSC
Mr. Davit Grigoryan, Director
2 Arshakunyats Ave.., 4th floor, room #411,
Yerevan 0023, Armenia
Phone: +374 60 501 775
Flexible Applications CJSC is an Armenian-American IT company operating since 2009. Flexible Applications is specialized in Employee Time and Attendance and Access Control Systems and is the exclusive reseller and support provider of US-based AMG Employee Management Inc. company's time and attendance products (hardware and software) in Armenia. The company offers wide range of time and attendance and access control devices, such as fingerprint readers, card readers, hand and face readers, turnstiles, electromagnetic locks, etc.