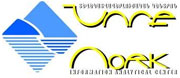 Nork Information - Analytical Center CJSC
Mr. Koryun Sargsyan, Director
68 Karapet Ulnetsi Str., 0069 Yerevan, Armenia
Phone: + 374 11 501 801, + 374 10 24 75 02, + 374 10 24 75 32
Fax: + 374 10 24 75 02, + 374 10 24 75 32
"Nork" Information-Analytical Center CJSC (hereby "Nork") is one of the leading companies in ICT sector with qualified and experienced staff.
The company's goal is to invest in IT solutions that help our customers become preferred for the customers, the best for consumers and attractive for investors.
The number of business process automation and electronic doc-flow systems designed by the company are being maintained in the public and private sectors.
The package of the services proposed by the company includes:
Customized software and outsourcing
Databases and management information systems
Internet applications and ecommerce
IT services, consulting and system integration
Networking systems and communications
Systems engineering and automation
Systems software and programming languages
Web design and development
Mobile applications development
Hardware support
Computer training
Publishing