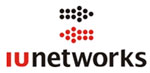 IUnetworks LLC
Mr. Vahram Merangulyan, Director
1-3 floors, 38/1 Pushkin St, Yerevan
Tel.: + 374 11 500 650, +374 60 500 650
Email: [email protected], [email protected]
http://www.iunetworks.am
IUNetworks has been operating in Armenia since 2008, nevertheless it has already become well known in the Armenian networking equipment and IT market thanks to its highly qualified specialists, technical capacity and professional approach. IUNetworks cooperates with a range of large Armenian and international companies, state institutions and has proven to be a reliable and respected partner.
Our main activities include importation, wholesale, installation and maintenance of IT equipment and complex networking solutions in different industries and businesses.
The installation of such systems and solutions enables the following advantages to companies:
Manage more efficiently the flow and storage of the information inside the company, create and effectively operate and manage databases,
Build a corporate IT infrastructure based on Virtualization and Thin Clients,
Automate the business procedures, thus saving time and resources,
Organize IP video Surveillance of head buildings and facilities,
Connect between facilities and buildings through IP Telephony and much more.
IUNetworks cooperates with a range of world known companies such as Sun Microsystems, Ericsson, Cisco, 3COM, Pirelli, Planet, Axis and many others.
The IT infrastructure solutions offered by IUNetworks and its partners are widely used in the following industries:
Technical/ Scientific,
Education
Different size businesses
Telecommunications
Internet providing services
Banking and Financial services
Government
Construction
Media and Television
Etc.
IUNetworks also offers technical support for the whole range of the products of the above listed companies. The flexible and individual approach to each client, taking into consideration the specificities of their activity sector, enables our specialists to precisely determine the needs of the client and offer appropriate solutions in accordance to those needs.
Presently, for the first time in the RA, IUNetworks, in cooperation with Ericsson, ordered by Ucom, is installing a Gigabit Passive Optical Network (GPON) in Yerevan city which will enable the simultaneous delivery of 3 kinds of services:
IP Television,
Fixed IP Telephone,
High speed Internet.
IUNetworks has also successfully carried out the following IT projects:
Planning and installation of a video surveillance system for the State Revenue Committee of RA, which functions in all the regions of the RA,
Planning and installation of an interactive education system for the Ministry of Education and Science of the RA,
Supply of Juniper high network security equipment and technical support for Orange Armenia,
Other projects.
Thanks to its experience in the IT sector and its sufficient technical capacity, our company is ready to not only carry out partial tasks of the client's IT projects, but is also able to undertake and fully execute the whole project, to the extent of the purchase, supply, installation of the necessary equipment, maintenance and tech support as well as implementation of the finite system into a real network environment.
IUNetworks, Your IT solutions.