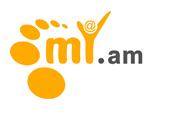 My Corp LLC
Mr. Aram Hakobyan, Director
Yerevan Arami St., 64 Building, 2nd Floor, Area 147 (in the building of "Boulevard Plaza")
Phone: +374 77 88 55 58, +374-60-648080
Email: [email protected]
"My Corp" LLC was founded in 2006 based on private funds and aimed to start its pilot mission in the local Armenian market and make the basis for future B2B/B2C development in the world. "My Corp" targeted online business rapidly increased the market with unlimited capacity and opportunities. Joining experienced professionals from different industries we put very enthusiastic and ambitious goal to create first b2b in the world, centralized online market via b2c online markets.
www.MyRealty.am - is one of the main projects that contributes to our main vision, with the following mission
"Our Winning idea": Centralized online realty market- Enable companies' through quality centralized online real estate market to enhance and enlarge their business, by creating opportunity to enter new markets and attract new customers worldwide.