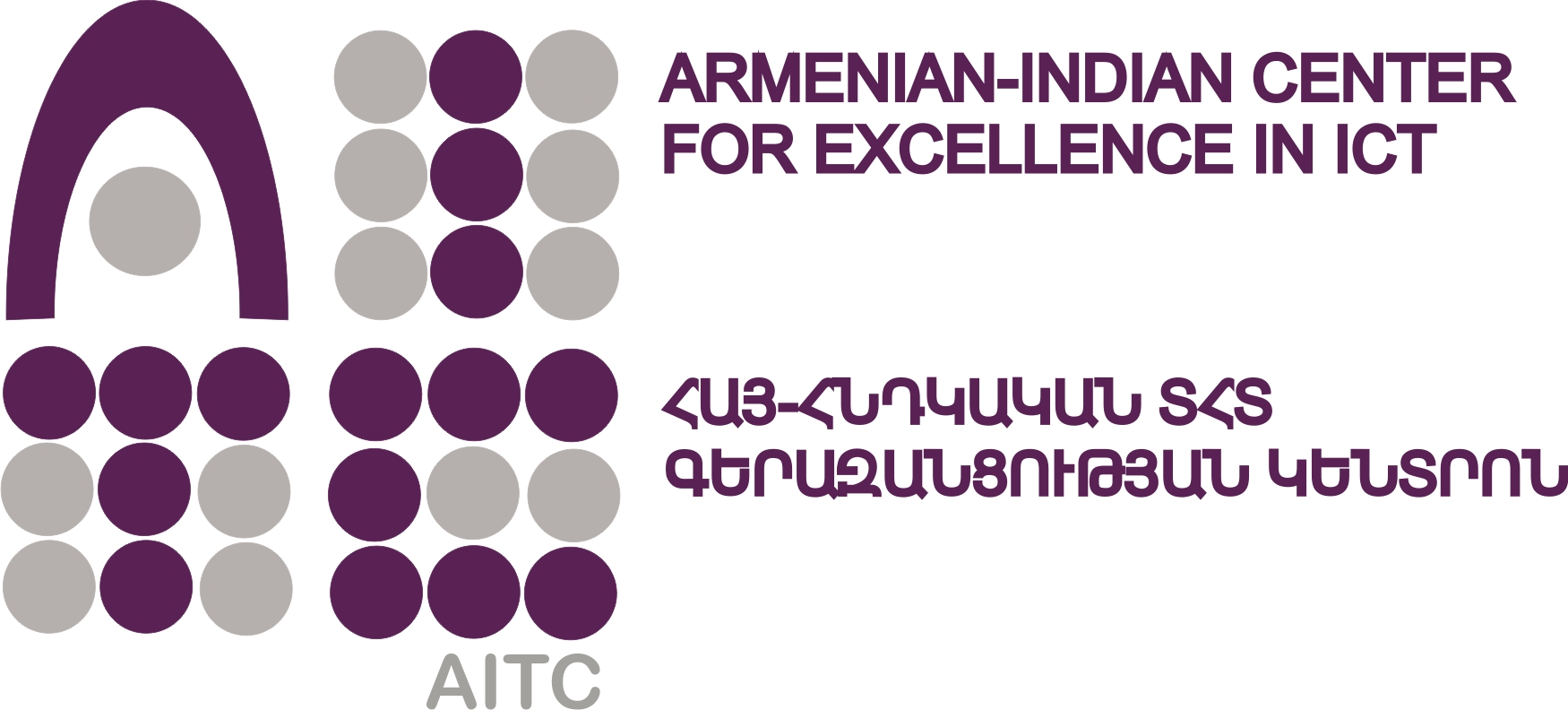 Armenian-Indian Center for Excellence in ICT
Ms. Emilia Harutyunyan, Project manager
1 Alex Manoogian st., 1st floor, Faculty of Mathematics and Mechanics, YSU, Yerevan 0025, RA
Phone: +374 10 556 810
Mobile: +374 93 / 99 556 810
Email:[email protected]
Armenian-Indian Center for Excellence in Information and Communication Technologies (AITC), one of the leading educational centers in Armenia, was officially established on November 7, 2011 at Yerevan State University. AITC center is a joint project of the Governments of Armenia and India, which is implemented by Enterprise Incubator Foundation (from Armenian side) and C-DAC center (from Indian side).
The Center is located at Yerevan State University and delivers both short-term and long-term courses designed to fit a wide variety of audiences.
Our key objectives are:
Delivery of IT trainings

Delivery of Design & Animation trainings

Delivery of Business trainings

Training of Trainers

Exchange Programs

Promotion of Joint R&D Projects
AITC center also organizes short-term re-training and certification courses for professionals and special ICT trainings upon request for a specific group, university or a company.
Along with training activities, the Center can also carry out high-end R&D activities in the state-of-the-art R&D lab, which provides necessary software tools, including PARAM Supercomputer, High Performance Computing (HPC) applications, respective software, course materials and reference books (our center has a library of around 6000 IT books); everything needed for effective research and industry requirements.
Armenian-Indian Center for Excellence in ICT organizes training courses in the following directions:
AITC Trainings | IT
Web

Programming (HTML, CSS, Bootstrap, JS, Typescript, Node JS, Angular)

JAVA

Programming (OOP, JDBC, Frameworks` Design Patterns, Maven, Spring, Hibernate)

Mobile Programming (Android,

iOS)

Testing Fundamentals /

QA

Automated

Web

Testing

with

Selenium

WebDriver

Using

Java

Linux Operating

System (Essentials, Network, Server)

Python

Database

Technologies
AITC Trainings | Graphic & Design
AITC Trainings | Business and Soft Skills
Around 8000 participants were trained during 2012-2020.