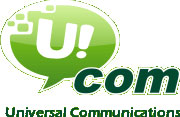 Ucom LLC
Mr. Hayk Yesayan, Director
40/1 Sayat Nova Str., Yerevan, Armenia
Phone: + 374 60 44-44-44
Email: [email protected]
http://www.ucom.am
Ucom LLC was founded in 2007. It is one of the rapidly developing companies in Armenia. One of the main goals of the company is geared towards fostering the stimulation of the development in the spheres of information, communication and high technologies (ICT & Hi-Tech) in Armenia through introduction of new technologies and application of innovative solutions.
Ucom offers the consumers its global technological solutions by means of forming of fundamental infrastructures, providing sustainability and reliability of services supplied.
Aimed at the accomplishment of the above-mentioned mission Ucom in collaboration with Ericsson Corporation, Sweden, has built up a FTTH (fiber to the home) fiber optic network with unprecedented Gigabit capacity in Armenia which is based on GPON (Gigabit Passive Optical Network) technology. Through its FTTH network Ucom offers modern "Triple Play" service to the consumers. Reaching each apartment, fiber optic cable provides an opportunity for the subscriber to use fixed phone line, IPTV and broadband internet services.
"Triple Play" which includes U!TV, U!Net and U!Phone packages is built on Ericsson IMS base (IP Multimedia Subsystem). IMS solutions will change your understanding of mentioned traditional services.
The introduction of new technologies to each home is a revolutionary innovation in Armenia, which will completely change your understanding of the above mentioned traditional services.
Since August 2010 Ucom has started its cooperation with "Toshiba Europe" and has become the official representative of Toshiba laptops in Armenia. This gives the company the opportunity to offer its subscribers the genuine Toshiba laptops with the possibly affordable prices.