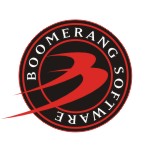 Boomerang Software LLC
Ms. Nairi Avetisyan, Director
Abelyan 6/1, 0038,Yerevan
Tel.: +374 10 39 32 21 (ext. 23)
E-mail: [email protected]
http://www.boomerangsoftware.com, http://www.becallcenter.com, http://www.mobitoweb.com, http://www.mobitowebe.com, http://www.extendiait.com
Boomerang Software was founded in 1997.
Has a successful track record of over 12 years of stable operations, western style management.
For many years it has created models, applications and back-end servers for e-transactions.
Over 200 man-years of work.
Provide complete software solutions for transactions web portals.
One of the leading providers of client-side E-Commerce Web-based tools with over 2 million unitsshipped.
Created solutions for known apps such as HP, AOL, Microsoft and others.
Modern work environment, Secure Infrastructure, Networks, Disaster Recovery plans, and redundant
connectivity.