Guide to Armenian IT companies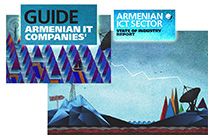 The Information Technology industry is one of the most successful and fastest growing industries in Armenia, which relates to the relatively high level of the workforce, the number of companies in the industry and overall, high growth rate. IT sector, being one of the leading sectors in Armenian economy, promotes technology innovation and productivity growth. The constant growth of IT also comes from the technical and managerial qualities of the workers. Armenian universities offer educational programs, which are designed to give high-quality professionals.
The sector is comprised of both indigenous and foreign companies, the majority of which operate in Yerevan where professionals of the sphere are centralized, and there is appropriate infrastructure for business activity. It should be noted, that thanks to the development of educational and business infrastructure, within the framework of regional development programs, the number of companies operating in the regions of Armenia, especially Shirak and Lori, increase year by year.
One of the major specializations in Armenian IT companies is software applications. This segment includes the companies that offer software development and service, programming services, consulting and integration, computer graphics, animation and multimedia programs, mobile applications, web programming and design, microcircuits design, engineering, research and experimental services. Internet service providers offer internet access (wholesale or retail) from different sources. This segment includes companies that provide internet applications and e-commerce, databases and management systems, accounting, finance, banking and networking systems. In Armenia, internet service providers offer the following services in the domestic market: ADSL, fiber-optic and cable Internet, Wi-Fi wireless access technologies, general-purpose packet radio (GPRS), EDGE, CDMA and 3G technologies (UMTS / WCDMA), ), 4G/LTE. It should be noted that the activities the companies operate in the sector also cover different fields of technology industry; while the two main segments mentioned above are the main directions of their activity and income generation.
The majority of foreign companies are specialized in customized software development and outsourcing, chip design and testing, and networking systems and communications. However, the local companies have adopted two major business development strategies: being an outsourcing location for software development or producing and marketing their own software products and services. However, the number of Armenian IT companies that develop their own products is increasing year by year. This is a positive indicator and evidence that IT sector in Armenia is transforming from being an outsourcing resource to a technology development center. Today Armenian IT companies can offer products and services corresponding to international high standards.